BIO ARCHITECTURE is BIOTEKT
BIOTEKT TECHNOLOGIES
CASA BONITA VERDE makes possible the delivery, installation and all other construction required to complete these beautiful earth contact structures, wherever you are. The BIOTEKT technology uses strong, long-lasting composite materials with a modular construction system, designed to be covered with earth and vegetation. We offer living spaces that are:
Beautiful and comfortable
Customizable
Easy to assemble
Easy to maintain
Made of recycled materials
Longer lasting than concrete
BIOTEKT is a unique combination of old and new technologies and sustainable construction methods: earth berm construction, green roofs and walls, and prefabricated composite material shells. In this beautiful synthesis, we solve the problems usually associated with earth construction to prevent high labor costs. BIOTEKT houses are based on a super-strong, insulated, composite material shell formed by various modules that can be combined to form a wide variety of floor plans, with ample domed and vaulted ceilings and straight walls. All modern amenities can be included to provide the highest comfort desired.
We sell the manufactured panels together with all the materials used to fasten the panels together and to the foundation. The panels may be installed by the owner following our detailed instructions or we can assist with installation. We offer 10 years structural warranty for houses installed by our technicians. The other services like the foundation, utilities, outside earth construction or the inside finishing may be provided by local construction companies. Depending on the location of the project we might be able to offer turn-key houses using our highly specialized technicians.  A local Project Manager to coordinate design, code compliance, proper municipality permitting and construction is highly recommended.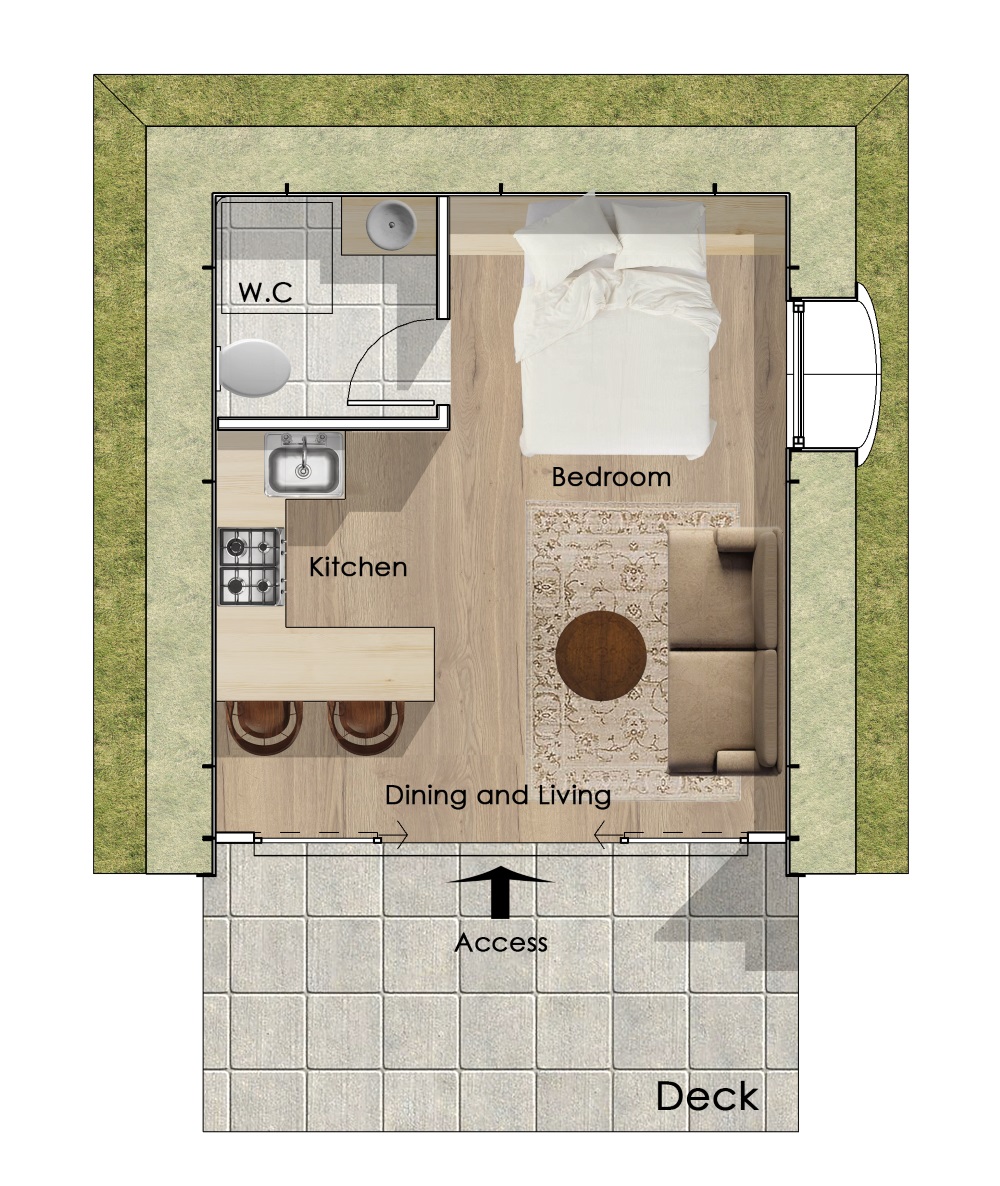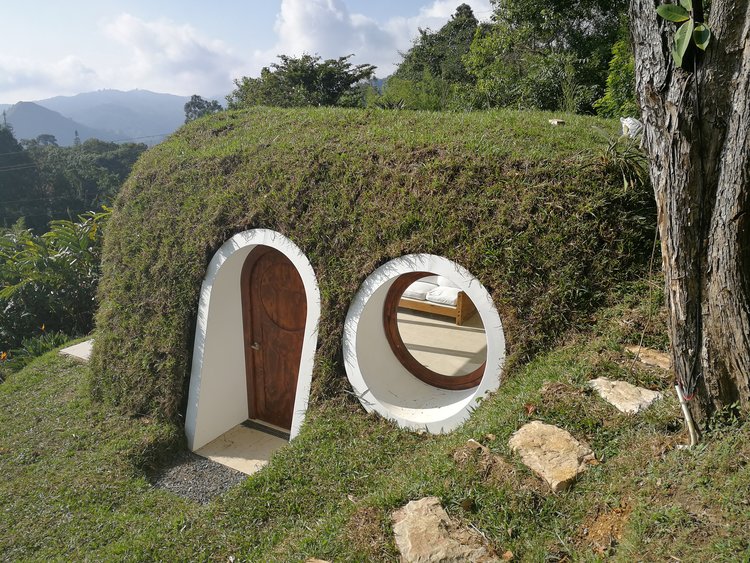 BIOTEKT structures will make perfect housing that can be covered and surrounded by vegetation for:
Residential single units
Residential multiple units/community development
Youth Residential Neighborhoods
Weekend Cabins
Camping Cabins / Fishing / Hunting Cabins
Youth Camps
Commercial developments / malls
Chain stores
Gas Stations
Yoga Retreats
Medical Clinics
Coffee Shops
Restaurants
Other possibilities
We work closely with our clients to ensure you have a smooth purchase experience and a successfully built home.
Purchase Steps:
1. REVIEW OUR MODELS
Visit www.biotekt.com and review our models. While the models show a fully built house, we sell only the pannels required to build your BIOTEKT house. Consider the panels as the structural frame of your house. Foundations, utilities, interior, and exterior finishings are not included in pricing. However, we will provide all required particular information to build your BIOTEKT house to completion. You will need to hire a local construction contractor to assist you with acquiring building permits, building the foundation, assembling the panels, installing utilities, and finishing the interior and exterior requirements.
Choose a model you like. BIOTEKT houses are available in a variety of sizes and can be assembled in a range of configurations and customized for your purposes.
2. MODIFICATIONS
Decide if you want modifications to the chosen model. If you require modifications, our design team will assist with adjusting the model to meet your needs. A minimum cost of US$ 500 will be required up front as a deposit to cover the cost of designing. If you do not require design changes, proceed to order.
3. LOCAL PROJECT MANAGER
You will need to hire a local Project Manager and / or construction company to handle all the requirements to build a house in your municipality. You will need to submit a design package to apply for a Development Permit and Construction Permit. Your local Project Manager will coordinate all design and construction activities locally and ensure local construction codes and regulations are met and followed.
4. ORDERING and PAYMENT
You will need to pay 50% of the agreed-upon contract price at the time of ordering. It must be received prior to the start of the fabrication of your  BIOTEKT house panels. The balance of 50% is due at the time of shipping or loading into a container.
5. FABRICATION
There is a minimum of 2 weeks' time required to fabricate your BIOTEKT house panels, depending on the fabrication load of our plant. A firm time frame will be provided at the time of ordering and will be part of the purchase contract.
6. SHIPPING
Our production facility is located in Cali, Columbia, South America. We are in the process of starting a production facility in Romania, Europe. Other locations are presently under development. Shipping is by sea, on 20 foot or 40-foot containers, depending on the size of the house, the number of houses ordered, etc. All shipping arrangements are undertaken by the client. For example, a 40-foot container can hold three Mango houses and a smaller house will fit in a 20-foot container. Shipping times vary depending on a few variables including the location of your home. A rough estimate is 3 – 5 weeks for N. American customers, 4 – 6 weeks for customers in Europe, Australia, and Africa.
7. DELIVERY
Panels can be directed to the site location or at an intermediary storage location, at the client's request.
8. INSTALLATION OF BIOTEKT PANELS
Once the concrete slab is completed, inspected and approved by our technical specialist, the installation of panels will take just a few days. We offer 10 years structural warranty when construction is handled by our specialists. No warranty is offered if the project is done on a DIY basis.
9. CONSTRUCTION AFTER INSTALLATION OF BIOTEKT PANELS
This will include installation of all equipment/utilities and finishing – interior and exterior, under the local Project Manager's supervision. Our specialists can assist with technical guidance when requested.
10. COMPLETION
Once all construction activities and all inspections by local authorities are completed, your nature-immersed house is completed and ready for you to move in.
Bio Architecture is BIOTEKT www.biotekt.com. Casa Bonita Verde is your partner in using BIOTEKT technologies to build your nature integrated home www.pricing.biotekt.com. The BIOTEKT – Casa Bonita Verde experience is easier than you think. Start the process now!
ALL DRAWINGS, PHOTOS, VIDEOS, 3D ARTWORK, DESIGNS AND TEXTS PROTECTED BY U.S. AND INTERNATIONAL PATENTS AND COPYRIGHTS.
Address
340-600 Crowfoot Cres NW
Calgary, Alberta, Canada